Taking a stand for music and life

I truly believe music is a powerful gift from God, and with this gift comes great responsibility. Of course, musicians must be diligent in practice and study of an instrument, but I have come to realize that there is more. I want the world to be moved by the music I create, but actually, I believe God is most concerned with how I live away from the piano. I desire to be a man that loves God and always keeps Him first. I want to be a great husband, father, friend and man that makes a positive contribution to society.
I want to be what I call a "complete musician". A story in the Bible I love is about the musician, David (1 Samuel 16:14-23). When he was recommended to play his instrument for King Saul, there were many qualifications stated that made him a good candidate. The interesting aspect of the story is only one attribute spoke of David as a skillful musician. All of the other qualities were not music related. Of all David's qualifications, I feel the most important one is the Lord was with him. Because of God's presence in David's life, Saul received healing every time David played. Now, that's what I call power. This revelation taught me the importance of being more than just a skilled musician. David was what I call a "complete musician" because he was proficient in every area of his life. He was not a perfect man, but he always had a heart for God. This is what I strive toward everyday.
Over the years, God has also shown me that music definitely has a message. With or without lyrics, it always has something to say. I want to create music that speaks life every time my fingers touch the piano. Whether it be entertainment, joy, peace, comfort or healing, my continued desire is through the power of the Holy Spirit people can receive what they need through the music I play. I thank God for the gift of music and the ability to create.
My wife Hope and I founded The Music Stand, a nonprofit organization devoted to providing uplifting entertainment for music lovers and support for musicians.
Learn more at www.themusicstand.org.
-Arlington Jones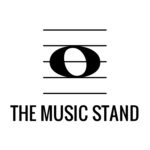 The Music Stand is a 501(c)(3) nonprofit organization.